It is wonderful to see lots of you knitting the Baa-ble hat, the free pattern I designed for
Shetland Wool Week 2015.
It is also very exciting to see you using different colours, making them unique and I wanted to share a few that I have seen on Ravelry and Instragram for some inspiration! You can see more photos of each version by clicking on the knitter's name - it will link you to their Ravely page.
I love the turquoise sky in
Ribbels' version
Look at these fantastic colour choices from
SyllyMae
:
I absolutely love the colours
Fidlstix
has used especially the contrasting stripes in the ribbing (she also has several amazing patterns including a Fair Isle hat recipe using Shetland jumper weight yarn - check out her designs
here
).
Ella Gordon
has made a grey version, which we often joke is a mutual favourite colour way, I need to make one like this for myself!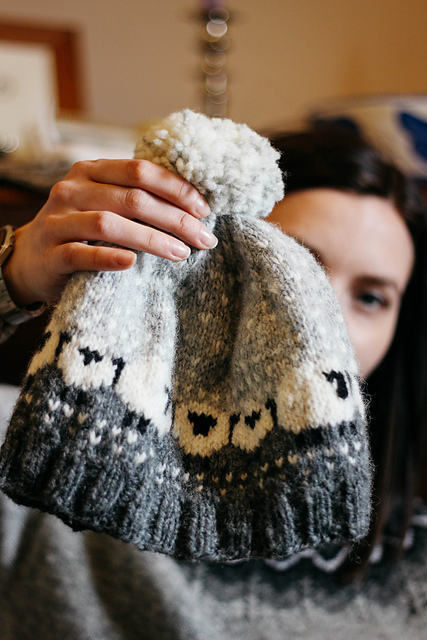 She has made a few adaptations to the patterns to suit her "flat head" (her words not mine!). You can read about it in her blog
post
.
Lunargirl
has gone for a slightly more muted effect with softer colours with a lovely effect.
The Winter's Night Baa-ble hat by Nelago
uses darker colours very successfully, of course I love the grey sheep!
Torirot
has made a gorgeous version using several shades of blue and green - I think it works really well photographed against this wall, the colour just pops out. You can read about her hat on her blog
http://torirotsstitches.blogspot.com/
as well as getting a peak at some beautiful cardigans at a Colourwork Cardigan Parade. She is also an amazing knitwear designer, you can see her designs
here
, if you aren't familiar with her work you need to see it!
Magfly
has added an alpaca pom pom to great effect.
You can see more projects on the Baa-ble hat project pages on
Ravelry
and if you haven't already you can download the pattern from the
Shetland Wool Week website.
Thank you to the knitters above for allowing me to use their photos.
Please keep adding your projects to Ravelry, it is so good to see them. Remember if you are posting photos of them on Instagram on Twitter to add the hashtag(s) #baable #baablehat #baablealong and/or tag Shetland Wool Week and/or myself (@shetlandwoolweek and @donnasmithdesigns on Instagram) or tag Shetland Wool Week on Facebook.
That way we can see them and get even more excited about the flock of Baa-ble hats that are emerging!